On May 6, 2019, nearly a year after their wedding, Britain's Prince Harry, 34, and his American wife, the former minor Hollywood actress Meghan Markle, 37, announced on Instagram that their son was born that "early morning," weighing 7 lb. 3 oz.
Two days later, on May 8, in a press conference, Harry and Meghan, aka the Duke and Duchess of Sussex, introduced their baby to the world — Archie Harrison, 7th in line to the throne, who had been overdue by at least a week.
All of which has not dampened the rumors that Archie is a surrogate baby, birthed by a woman who is not Meghan Markle.
Markle is a rabid anti-Trumper, who calls President Trump a "misogynist," "divisive," and "syphilis". Reportedly, she told a friend that the baby will be raised "gender-fluid," without "gender-stereotyping" — whatever that means.
Dismissed as a ridiculous "conspiracy theory" — as if there are no real conspiracies — the notion of surrogacy and, therefore, a fake pregnancy, is intriguing and bears some scrutiny. Here are the reasons for the rumors:
(1) Breaking protocol for royal births, Archie's birth announcement was made on Instagram before the official birth announcement by Buckingham Palace. The Palace's easel announcing Archie's birth went up about 4.35 p.m., about two hours after the social media announcement — a delay that suggests information about the birth had been kept from the Palace. The Palace's easel announcement also lacks the signatures of the attending medical professionals. (Harry Markle)
Below are the easel announcements of the birth of Prince Willliam's first son, Prince George (left), and that of Archie (right):
(2) Markle's delivery was way overdue. On October 15, 2018, when Kensington Palace announced her pregnancy, Markle already had her 12-week scan. A week later, she told someone whom she was greeting in a line up that she was 16 weeks pregnant. At the time of the pregnancy announcement, reporter Emily Andrews said: "We understand that she was around 14/15 weeks, and so, we think that the baby is due in early April. I think maybe March, I think the baby might be born in March." (Town&Country)
(3) Unknown place of delivery: The birth announcement made no mention of a hospital, nor does it bear the signatures of medical witnesses. The media had photographers on standby in all the hospitals, but they did not report on the birth. All of which suggests a home delivery, which was risky for a first birth by a woman of Markle's age, 37.
(4) The strange baby bump: Skeptics point out that the baby bump that Markle constantly cradled had behaved in a strange way — changing shapes in the course of the day, looking big one day and flat a few days later, creasing or folding in the middle (like Beyoncé's baby bump), wobbling, and shifting from side to side. (Harry Markle)
Here's a video of Markle's folding baby bump:
Below is a video of Markle's wobbling baby bump:
Contrast Markle's wobbling-from-side-to-side baby bump with that of this pregnant woman:
Also, what heavily-pregnant woman do you know who can so easily bend, squat down, and get up as 7-8 months pregnant Meghan?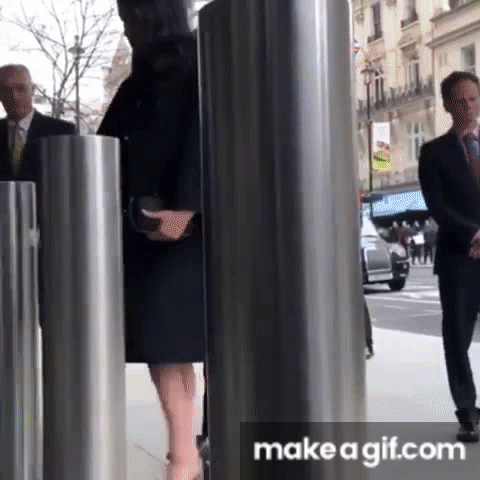 More pics of Meghan's strange baby bump here.
See also:
~Eowyn
Better than Drudge Report. Check out Whatfinger News, the Internet's conservative frontpage founded by ex-military!
Please follow and like us: