If you think the U.S. justice system is awry, wait till you see the travesty that's going on in Canada.
You ain't seen nothin' yet!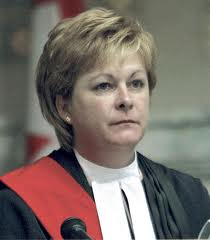 Dr. Henry Makow, a Canadian, writes in his blog today that the Canadian Judicial Council is holding an inquiry on whether to dismiss a judge named Lori Douglas (her photo is on the left).
In 2003, Douglas' husband, Jack King, solicited via e-mail a black man named Alex Chapman to have kinky S-M sex with Lori.
In an email to Chapman on May 8, 2003, King wrote: "What do you think? Are you interested? I am making progress. She [Lori Douglas] seems more interested at the moment in another woman + bondage, with her being the one tied up."
Three weeks later, King again solicited Chapman in email: "She suggested this evening… that you should be invited out here.".
Lori met Chapman twice and cooed over the size of his abs.
King took pictures and put them on the Internet for all to see (see a sample below). The pictures include one of Lori urinating on grass, and another of her performing fellatio on a man.

Despite that, Lori Douglas became a judge. Now that she is facing dismissal before the Canadian Judicial Council, she claims to be an innocent victim — that her husband, Jack King, betrayed her by putting these pics on the Internet.
Makow writes:
"Lori Douglas is not just any judge. She is the Chief Family Court Judge of Manitoba. Will anyone accept her judgments on marriage and child custody when the following pictures are on the Internet?
Are we supposed to believe King made this up? Douglas posed for the pictures. She knew they were online and she was willing to pose with Chapman until he decided to charge the couple with sexual harassment.
Douglas thinks she can keep her $250,000 sinecure because she is part of the corrupt and decadent Winnipeg Masonic establishment.
Douglas maintains that the facts 'were well known in the legal community' and even by the judicial committee which appointed her — right down to details about the nude photo which Douglas describes as graphic, explicit pictures including bondage.
Her lawyers say: 'Even the Chief Justice of the Manitoba Court of Queen's Bench was aware of the issue and supported her bid to become a judge, the documents state. Senior members of the bench and bar made it clear to Ms. Douglas that her husband's conduct did not reflect negatively on her. She was urged by them to apply for judicial appointment.'
If this is true, then the whole justice system is rotten and more heads should roll."
Click here to read the rest of Makow's article.

~Eowyn
Please follow and like us: